ELITE SWIMMERS PUSH LIMITS, TRAIN MORE AGGRESSIVELY WITH HAMMER HEAD SWIM CAPS
Courtesy: SwimSwam, a Hammer Head partner. 
It is not unusual to think of the novice 10&U swimmer when you hear about the value proposition of the Hammer Head® Swim Cap. Yes, they forget their backstroke count, how to circle swim, and they are still trying to master their movements above and below the water. But, what about the swimmer with laser-focused dreams to compete at a higher level? We are finding that they're training harder and with greater confidence when wearing the world's only protective swim cap.
Olympian Josh Davis says "no swimmer plans on collisions resulting in head strikes, but it happens all the time. The faster the swimmer, the bigger the injury. Safety is of the utmost importance to our sport–emotional, mental and physical. Hammer Head is the safest, fastest, most comfortable and longest lasting swim cap in the world." – Josh Davis, Three-Time Olympic Gold Medalist
Fish states "my business is focused on my love for video analysis and stroke technique to help swimmers compete at their highest level. That means swimming more aggressively, taking risks and pushing the limits to improve. The position of the head in the water is crucial, but sometimes causes apprehension for the swimmer as they turn up the heat to improve. My client's safety is critical and the added head protection of the Hammer Head Swim Cap helps my swimmers do what it takes!" – Abbie Fish, Founder of Swim Like A. Fish
Hammer Head says "these two respected coaches have connected the dots, calling out the need for head protection for swimmers who push their limits every day!"
Video: Hammer Head® Swim Caps – Unique & Patented Features
Video: Hammer Head® Swim Caps – The Hockey Puck Challenge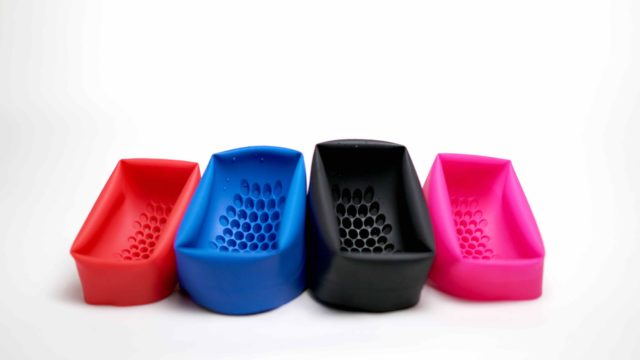 About Hammer Head® Swim Caps (www.hammerheadswimcaps.com)
Hammer Head Swim Caps is a patented product of Mako International LLC, co-founded by David Burns, a 20-year swim coach and swim school owner, and Theresa Finn, a swim mom and sports brand marketing and business development executive with a manufacturing background. The Hammer Head has been endorsed by Rowdy Gaines and the ASCA (American Swimming Coaches Association), USA Synchro and Hope Floats Foundation. Hammer Head® Swim Caps are the world's only protective swim cap and are ideal for every age and skill level of swimmer bringing confidence in the water through improved head protection. Caps retail for $34.95 and are available in three sizes – large medium and small.
Colors include black, red, pink and royal blue. For team or bulk orders call 1-888-842-515 to be connected with a representative. Follow Hammer Head Swim Caps on Twitter  @HammerHeadCaps, Facebook @HammerHeadSwimCaps, and Instagram @HammerHeadSwimCaps