CHATTING WITH RICHARD FRANKLIN, ADVISOR TO HAMMER HEAD SWIM CAPS
Courtesy: SwimSwam, a Hammer Head partner.
This week SwimSwam met up with Richard Franklin, accomplished business advisor to Fortune 100 companies and start ups – as well as, of course, father of Olympic medalist Missy Franklin – at the ASCA World Clinic 2018 in Anaheim, California to talk about his new advisory role to swimming head safety advocate Hammer Head Swim Caps.
SS: So, we're here to talk a little about your new advisory role with Hammer Head® Swim Caps and head safety, but first we wanted to ask: you've been involved with a lot of other advisory boards and startups in the national swim and clean tech communities. How important is that to you?
RF: It's incredibly important to me. I'm committed to helping the sport of swimming develop and grow for the future. We've come along way in even the last decade as a global sport and more young athletes are getting into competitive swimming than ever before. So I'm always seeking opportunities and keeping my eyes open to see what I can do to get involved with new organizations, ideas and individuals that are going to make swimming safer, better, more competitive and more accessible to future generations of athletes, or other ideas that will help the sport evolve for the future. Hammer Head® is definitely one of those ideas.
SS: For those who may not have heard of Hammer Head® Swim Caps, what do they do?
Hammer Head® is a major step forward for swimmer head safety. Think about it this way: professional athletes and even youngsters starting out in other sports like hockey and football all wear head protection to guard against collisions. It's actually mandated in many sports. But swimmers haven't had any head protection against potential injury. Until now. The Hammer Head® Swim Cap features a proprietary layer of honeycomb material inside the cap that helps to absorb and dissipate the shock of impacts in the water – with other athletes, the pool wall or even the bottom of the pool. It's also cut to sit lower over most ears, so it can help protect the ears from the in and out flow of water. Plus it's incredibly comfortable to wear – like a buttery premium silicone. Comfort is critical when you consider how much time swimmers spend in the pool in practice.
SS: Why isn't the issue of head safety in swimming more prominent?
RF: The international swim community is just starting to focus on it. But think about it this way. In Hockey nobody used to wear helmets – nobody at all. When I was involved in the sport in the 1970's, athletes and spectators would have laughed if anyone skated onto the ice wearing a helmet. And the same is true with downhill skiing and snowboarding. Now it's unusual, not to mention concerning, if someone is out on a run without a helmet. Other sports are looking at this issue too – rugby and soccer are two sports that really need to examine it. And swimming is no different.
SS: How big an issue is head injuries in swimming?
RF: The thing most people – parents, young athletes and even some coaches – don't realize is that swimming is a contact sport. Not in the same way as football for instance, but in busy club practices, crowded warm up lanes and even during swim meets, collisions with other swimmers and the pool walls do occur.  Recent national swim statistics show that 68 percent of head injuries in the sport of USA swimming occur during practice and swim meets. Then think about other aquatic sports like water polo, diving, open water starts in triathlons and particularly synchronized swimming and you get the potential for even more risk.
SS: You sound passionate about making swimming safe. Is that why you got involved with Hammer Head?
RF: It's horrifying how quickly something can go wrong. Bode Miller and his wife lost their toddler to drowning and it happened in 30 seconds. An awful tragedy. Actress Natasha Richardson died from a blow to the head after slipping at a Canadian ski resort. Head injuries can be debilitating or they can be deadly and the water can be a dangerous place.
I couldn't not get involved with Hammer Head® swim caps. When I first heard about the idea for the Hammer Head® Swim cap – keeping all kinds of swimmers from beginners to professional athletes protected in the pool – I knew they were on to something. Then I met with co-founders David Burns and Theresa Finn, saw how invested they were in trying to help create a solution for head injuries in swimming and other aquatic sports, and realized the difference with Hammer Head is that this is more about a movement to improve head safety. I've been involved for about a year now as an advisor, helping to make sure the larger national swim community gets to hear about this unique idea.
SS: The high school and club seasons are getting underway? What advice would you give young competitive swimmers?
RF:  Well my main advice is, of course, to listen to your coaches. They're watching you intently and know your stroke better than you know it yourself. Listen to their critiques, practice what they say and repeat again and again. I'm constantly impressed by today's young athletes and how committed they are to doing what is right. They eat carefully and well, they get plenty of sleep, they rest from injuries even when they want to be in the water and are always open to innovative, new ideas in the sport.
SS: What else do you want people to know about head safety in the pool?
RF: Safety in the pool, just like performance, comes from confidence – in yourself mostly, but also in your equipment. Head safety for swimmers is a new way to think for the sport, but we should be addressing this, just like every other professional sport out there.
SS: Where can people find out more about Hammer Head® Swim Caps?
RF: You can read all about them and buy online at www.hammerheadswimcaps.com.
About Richard Franklin
Richard Franklin is Chairman Emeritus of Clean Tech Open, which fosters global entrepreneurship in clean technologies. He is a senior C-level business strategist with 35 years experience and has advised countless market leading organizations in consumer goods, sports and business. Richard is an active fundraiser and also sits on the advisory boards of a number of innovative start ups including Mako International, inventors of the Hammer Head® Swim Cap. He is father of Missy Franklin, five time Olympic Gold medalist, four time World Record Holder and 11-time World Champion.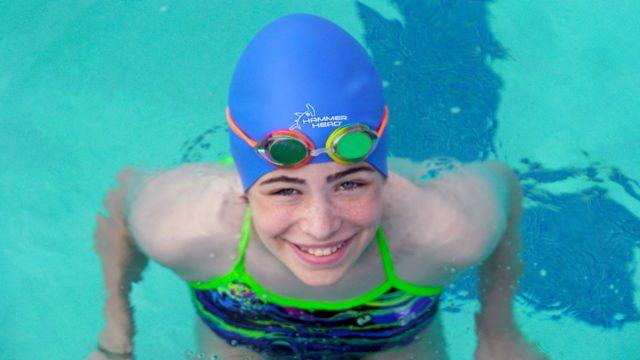 ABOUT HAMMER HEAD
THE MOVEMENT: Concussion and head injury awareness from sports is at an all-time high. Today almost all sports require a protective helmet to try and reduce the effects of head injury. Swimming should be no exception. Join our movement. Make swimming safer – wear the Hammer Head® Swim Cap. And spread the word about head safety in the pool.
HEAD INJURY AWARENESS
The Straight Statistics – 2017

Approximately 70 percent of swimmer head injuries occur during busy swim practices.
Roughly 30 percent of head injuries occur during busy swim meets.
Of all injuries, 68 percent occur from swimmer's colliding with each other, the bottom of the pool or the pool wall.

Insurance companies provide are requiring teams, clubs and schools to have an active, concussion management plans in place in order to get coverage.
USA Swimming and many other swim organizations have dedicated a section on their websites to addressing their concussion management programs.
Medical community working to raise awareness for early stage diagnosis.
OUR GOALS ARE SIMPLE
Raise awareness about head injuries in the pool
Help keep aquatic athletes safer in the water
Create a unique, comfortable patent-pending safety solution for all skill levels