ABBIE FISH AND SWIM-LIKE-A-FISH ENDORSE HAMMER HEAD® SWIM CAPS
Courtesy: SwimSwam, a Hammer Head partner.
Swim Like A. Fish is introducing Hammer Head Swim Caps to its athletes because they believe swimmers should have the same head protection as other competitive athletes to achieve their very best results.
HOW IS SWIM LIKE A. FISH RELATED TO HAMMER HEAD SWIM CAPS?
Abbie Fish, founder of Swim Like A. Fish, has endorsed Hammer Head Swim Caps in a recent analysis of underwater swimming caps. Through this endorsement, they have continued their mission of advocating water safety in the pool. 
WHAT DOES SWIM LIKE A. FISH HAVE IN COMMON WITH HAMMER HEAD SWIMMING CAPS?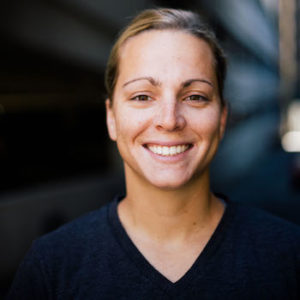 Abbie Fish is the CEO of Swim Like A. Fish and is a former US Olympic Trial qualifier, UGA NCAA swimmer, Expert Technique coach at The Race Club, Nashville Aquatic Club and USA Swimming High Performance Department's under Russell Mark.
Fish works virtually with swimmers and coaches all around the world to help them make better-informed decisions regarding their swimming techniques and water safety. "Starting Swim Like A. Fish allowed me to channel my love for helping swimmers compete at their highest level," said Fish. "With this, it means each swimmer is really pushing their limits physically. There's no doubt that head protection in the water is crucial. If they put their head down in the pool with confidence, they will be safe all the way through the finish." 
IN WHAT WAY IS SWIM LIKE A. FISH CONNECTED TO WATER SAFETY?
Abbie continues to develop the importance of underwater safety through her discussion of Hammer Head swim caps. "In addition to being safer, Hammer Head helps my client's racing performance," said Fish. "Whether it's actually putting numbers to the science, or the feel behind the cap, swimmers can tell when putting the Hammer Head cap on (just like a dome cap), they are faster."
WHAT DOES HAMMER HEAD THINK ABOUT THE NEW ENDORSEMENT? 
Theresa Finn, Co-Founder, and CEO of Hammer Head, says that "Abbie has earned the respect and large client base in the performance swimming community. She has also connected the dots, calling out the need for head protection for the most elite swimmers as they take risks and push their limits every day!" Hammer Head is honored to receive their most recent endorsement in order to spread the importance of water safety. 
WHAT MAKES HAMMER HEAD SWIMMING CAPS BETTER THAN ALL OTHERS?
Hammer Head Swim Caps is a patented product of Mako International LLC, co-founded by David Burns, a 20-year swim coach and Theresa Finn, a swim mom/ business executive with a manufacturing background. The Hammer Head swim caps has been endorsed by Olympians Rowdy Gaines, Josh Davis, Dr. Gary Hall, Sr., Tom Malchow, Greg Dumer, ISCA (International Swimming Coaches Association), Summer League Swimming, USA Artistic Swimming and Hope Floats Foundation, Sensory Friendly Solutions. Hammer Head Swim Caps has been nominated for 2021 PRODUCT OF THE YEAR by WOWSA (World Open Water Swimming Association). It is the world's only protective swim cap and is ideal for every age and skill level of swimmer bringing confidence in the water through improved head protection through its patented honeycomb technology. Learn how to wear them here. For more information, you can find Hammer Head on Facebook and Instagram and on Twitter. 
WHAT MAKES SWIM LIKE A. FISH DISTINCTIVE?
Swim Like A. Fish is an online, educational resource for swimmers and coaches. The goal of Swim Like A. Fish is to help any swimmer or coach get to their goals - faster. Abbie Fish aims to change the way the swimming world works through virtual education and sharing of ideas. The collaborative platform of SLAF is one of the many reasons why so many coaches flock to Swim Like A. Fish.
Not only does Abbie work online with swim coaches, but she travels but she travels to conduct in-person stroke clinics and speaks at many of the world's biggest conferences including ASCA World Clinic, ISCA Coaches Convention, CSCAA Conference and many more.
If you're ever interested in connecting with Abbie and seeing how they could help your team, click here for more information. 
WHAT ELSE DOES ABBIE FISH DO TO MAKE A DIFFERENCE IN THE SWIM WORLD?
Abbie Fish is big on relationships, whether it is coaching a swimmer who is 6 or 90 years old - Abbie truly believes anyone with the heart to train can benefit from technical advice. From coaching swimmers in Africa to Asia to South America and in the USA - Abbie's brand is helping to elevate the world of swimming, everywhere.
See where Abbie is next or to follow their travels here Facebook, Instagram or Twitter.
To learn more about the Hammer Head Swim Cap, check out a few videos below, other partnerships or buy here.
THE HAMMER HEAD® SWIM CAP DIFFERENCE
HOW TO DOUBLE-CAP WITH YOUR HAMMER HEAD® + TEAM CAP
https://www.youtube.com/watch?v=Idi-kjMkC4Y
WHY HAMMER HEAD®?